Eleanor's lockdown experience so far…..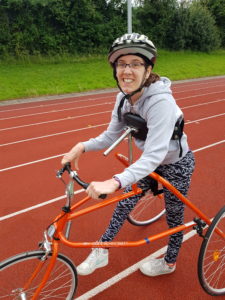 Hello! I have variant AT, am 35 and live independently with a support/care worker coming in the evening. I don't talk about this too much though as I believe that my health conditions don't define me as a person!
On the 21st of March 2020 the UK was plunged into a lockdown. This meant everywhere slowly shut their doors as this virus infected and killed thousands across the world.  The following questions and answers are my experience of lockdown and the positive and inventive things I have taken from this experience.
What did you do before lockdown?
Prior to lockdown, I have been involved with various sport organisations. I train and compete in running (using a running bike), I swim, I go to the gym, I cycle and I am now using a walker again! You could say I am active!
I feel very grateful to be in this situation and have used my writing skills to publish a blog. This includes my story of diagnosis and how I have dealt with life adversity, right up to my current day achievements and challenges in the sporting world.
I have made contacts in sport and the wider community to enable me to give something back and volunteer. I have used the experience and motivation sport has given me to benefit me in order to build resilience and appreciate lockdown.
What do you think/feel about the Governments advice on 'shielding' and why?
From about week two of the lockdown, the government has decided to do a tick box exercise putting EVERYONE deemed to be 'at risk', in an 'extremely vulnerable' group and advised them to stay at home. This advice is not taking into account any individual circumstances and has annoyed me no end! It is sensible advice from the government though, as this is helping to decrease the infection rate and bring cases down.
Sure, this blanket advice gets me angry and frustrated but it's there for my own good as preventative health care. Personally, I am taking a knowledge based approach while looking at the bigger picture and weighing up the risks/benefits. Even down to the carers doing my grocery shop for me, this experience has felt limiting and very restricting to my independence. What doesn't kill you makes you stronger though!
This way of thinking of myself is so far from the way I usually consider myself and I think this incongruence is half the battle. Once you have your head around that and accepted the situation, I think you will be able to make good use of this time!
What have you been doing whilst in lockdown?
As many of you know, I am heavily involved in sports and take great benefits from my diet/exercise. Having a regular, healthy diet and exercise routine during lockdown has helped keep mind, body and spirit intact!
In the mornings I do my exercise keeping my focus on the fact that I don't want to lose fitness when we are out of this. Various gym visits over the years have given me a fairly extensive repertoire of exercises that I can do. The good thing about this is that it doesn't matter how it looks or what you use for the exercise as no one is watching!
On days when I am feeling tired/low I remember that 'something is better than nothing'. While I exercise I listen to music that I had forgotten about and rediscovered. In the afternoons I do some sort of writing. I have various projects on the go and also find time to create poetry too! I find this reframes my thoughts and benefits my mental wellbeing.
I am also very interested in nutrition so have signed up for a few courses on that. As I have more time/energy I have turned the lockdown experience into a positive by spending more time experimenting with recipes. This benefits overall health and as a result have found I can do more things in the kitchen-bonus!
So in summary, I have used time in lockdown to do the best for my health both psychological and physical!
What advice would you pass on to anyone who is struggling during lockdown?
I know that this experience is very limiting and restrictive, not to mention emotive, but it won't last forever. There will possibly be a degree of social distancing in place for a while until a vaccine or treatment is found. In this case it will be a case of establishing a new 'normal'.
Try to see this as an experience and use it to your advantage. Think of all the benefits that are being gained from this-cleaner air, less cars, healthier communities, more wildlife, less stress etc. There is always someone somewhere in a worse situation than you so try to embrace life.
Know that it's perfectly normal to feel rubbish at times and that you have the control to acknowledge those thoughts and let them go. These days/weeks won't last forever so try to be kind to yourself and give yourself time.
Getting a good balance of sleep, diet and exercise is always a determinant of good body functioning.
Finally look outwards. Find time to smile and laugh at the situation- a smile does wonders for health! A talk with a friend, family member or care support worker goes a long way. Keep the mind busy and keep going!
Is there anything that this experience has taught you? What will you take from this?
Don't take anything for granted – share thanks!
Enjoy the simple things in life!
Appreciate the people in your life!
Eleanor has produced her own blog which can be found here.