Your stories
On this page you will find a variety of written and pictorial stories about and by people living with A-T.  We know how much you value hearing these stories and especially the positive messages they provide.
If you would like to feature on this page we would love to hear from you.  You don't have to be a writer or a poet!  We can help you tell your story if you prefer?  We just want to hear from you because we believe what you have to say is important.  For more information on how to feature on this page please email [email protected]
Celia
We have only recently had contact with Celia and we are already blown away by her intellect, brilliant sense of humour and determination to break down the many barriers she has faced over the years.  Please welcome Celia into the AT community and read her wonderful story (she has much more to say, so watch this space!)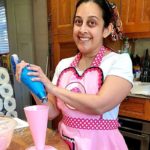 Jilly
Many of you already know Jilly either from her incredible cake making and fundraising achievements, her constant beaming smile or her readily available friendship and support for everyone in the amazing AT community.  To say Jilly is an inspiration to all who meet her would be an understatement.  Please read her incredible story here.
Alecia
Creative Alecia has been busy making videos and writing poetry during lockdown.  Like many of us, she's found it hard at times not being able to go out and see her friends, but luckily she has lots of creative ideas and a wonderful sense of humour.  Enjoy!
Amy
Please meet our academic achiever Amy!  Here Amy tells us about her amazing university experience and some of the challenges she faced along the way.  We think her wicked sense of humour and 'never give up' attitude really shines through.
Eleanor
Eleanor has written about her lockdown experience and gives an honest account of her thoughts about the governments approach.  She also gives a great overview of what she has been up to during the 2020 coronavirus pandemic and offers positive tips and advice on how to best cope during these days of isolation.  Oh and she's started her own Blog too!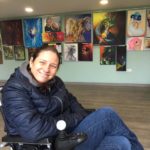 Natalie 
Here Natalie describes her early school and college years and her experience of growing up with A-T.  She also describes her life pre lockdown and talks about how she is coping at the moment.
Charlotte
Charlotte wanted to share some of her thoughts about living with AT and what can help in coming to terms with such a diagnosis.  She's also written down a few of her reflections during her lockdown  isolation.