Alecia
Alecia posted an upbeat Video message to Facebook thanking us all at the A-T Society for working through the Coronavirus.

Covid Colouring Sheets
During the Coronavirus many rainbow images were appearing in wind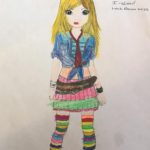 ows all around the UK. These colourful Rainbows were popping up to spread joy and hope in these strange times. We decided to make our own A-T version with a different picture each week which we encouraged people to colour in to sprinkle a little happiness across the A-T community and beyond.
During
this time people decided to send in pictures that they had designed themselves to help spread smiles amongst friends and family on social media. Here are just some of the amazing images we received. Thank you to everyone who took part.