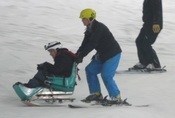 The adult activity weekend which took place recently was judged by participants to have been a roaring success. 21 adults with A-T were able to practise new skills, experience the thrills of skiing in real snow and share experiences and socialise with their peers in an environment where A-T is normal.
On Saturday the head office of Pizza Hut Delivery was turned into a Pizzeria with all of our adults making their own Pizzas and enjoying the chance to catch up with old friends and make new ones. With the sound of laughter echoing around the place, some fake Italian accents and the smell of freshly cooked Pizzas, you could almost imagine yourself in a pizzeria in the back streets of Naples!  We are extremely grateful to the staff at Pizza Hut Delivery for volunteering their time and energy to make the day a huge success.
On Sunday it was off to Ski School and an opportunity for our adults to experience the thrills and spills of flying down the snowy mountains of Hemel Hempstead. Casting aside their wheelchairs and having the chance to experience something totally different was extremely liberating. Lots of smiling faces came slaloming down the mountain leaving a flurry of snow in their wake. It was a major adrenaline rush…
Between these activities, there was plenty of time for people to sit and talk to people who also live with A-T. For many, this is almost the most important part of the weekend. It's not just being able to learn from and share with each other. It's about being somewhere where A-T is normal, where people have the time to listen to you, and the interest. And for some, it is a rare opportunity to get out and socialise at all.
We were able to fund the weekend with support from various Grant Giving Trusts which recognise the value and importance of respite, activity and quality of life for disabled people.
Film maker Sharon Woodward spent the weekend filming the events and interviewing our adults with A-T. Our adults were given the chance to get their views across and talk about what it's really like to live with A-T.