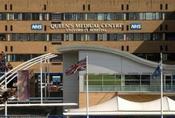 A team from the Italian company EryDel, which is planning the international clinical trial of the EryDex System to treat A-T, were very pleased with progress during a recent visit to the proposed trial site in Nottingham. During the visit the team met clinicians and managers from the Nottingham University Hospitals NHS Trust and staff from the A-T Society.
The aim of the visit was to meet the staff who would be responsible for undertaking the trial and see for themselves the facilities at the hospital. The team also met with managers from the NHS Trust to discuss contractual and administrative details. The visit was arranged to coincide with an A-T clinic so there was also an opportunity for the visitors to meet some A-T families and see the clinic in operation.
The visit was very successful. The Erydex team were impressed with both the facilities and the expertise and enthusiasm of the staff they met. They were also able to sort out a few outstanding questions about the running of the trial. This is what Dr Antonio Ferrari, Global Medical Director of EryDel, had to say about the visit.
It seems then that the way ahead is now clear for an arm of the trial to be held in Nottingham – though one thing that remains to be confirmed is the start date. Here is what Dr William Whitehouse, who will be the Principal Investigator for the Nottingham arm of the trial, had to say.
The Erydex trial will be truly global, with 180 people with AT participating in 22 centres in 14 countries on 5 different continents. Nottingham is likely to be one of the centres with the highest number of participants. We will be publishing more details about these other centres on our website shortly.
The A-T Society will be  supporting the trial by assisting participants and their families with arrangements for travel and where necessary accommodation. The Society will also be leading on the creation of an international A-T patient registry which is being funded through a European Commission grant to support the trial
Recruitment to the trial in the UK is not yet underway but will be widely advertised once it opens. In the meantime, if you would like further information, please feel free to contact us via [email protected].