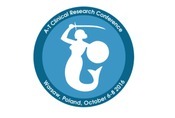 The  A-T Clinical Research Conference 2016, the third in the series inaugurated by the A-T Society in 2012, takes place in Warsaw from 7-9 October. Researchers and Clinicians with an interest in improving treatments and therapies for A-T will be flying in from around the world to take part.
As well as sessions on the main areas affected by A-T, such as neurology, immunology and respiratory health, there will be sessions on other areas such as cancer and emerging treatments not to mention a session where clinicians can discuss unusual or difficult cases and get ideas or advice from colleagues.
The conference series focuses on pushing forward the development of new treatments for A-T, increasing our understanding of how the condition affects people and improving clinical care. The different sessions therefore bring together specialist clinicians and laboratory researchers to listen to each other and talk together. They are organised to ensure that formal presentations are kept brief and time for discussion maximised.
The chair of the Scientific Committee for this conference is Dr Barbara Pietrucha, immunologist and Poland's leading A-T specialist clinician. However much work on the programme was done by Dr Cynthia Rothblum-Oviatt of the A-T Children's Project and the A-T Society's chief executive. Overall, it is a great example of doctors, researchers and patient groups working together.
Previous conferences have led to new partnerships and research projects. These include the Catnap imaging project in Nottingham, the synthetic viability project in Cambridge, gene therapy research in Granada Spain and the International A-T Registry. They have also led to new focus among doctors and researchers on particular areas of A-T such as liver function and nutrition. We hope that this conference will be equally productive.
The A-T Society's chief executive will be attending the event to welcome participants and chair the final summing up session and will be providing updates from the event via Facebook and Twitter.