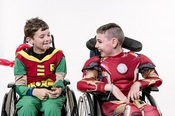 Meet Cian and Jake, 2 young lads with A-T who forged a firm friendship after meeting at the A-T Family weekend. Being in year 5 and 6 is a difficult time for children with A-T. Their disability starts to progress and they begin to stand out more from their peers as they become increasingly reliant on their wheelchair to get them around. This was particularly becoming a worry for Cian's mum, Lynda, as she saw her happy, active boy becoming more withdrawn and struggling to fit in with his peers.  At the A-T family weekend, which was financially supported by BBC Children in Need, Cian met Jake and the pair became inseparable over the 2 days. Their special bond is one of the examples of how important it is for children and families with A-T to feel that they are not alone.
Lynda said 'Before this year's family weekend I was hoping that coming along would be a great help to Cian, meeting other kids like him and seeing that he might have A-T but A-T doesn't have to have him. It's been rough for him lately with so many changes for him to deal with at such a young age. However, the A-T family weekend changed him for the better and I'm so glad we came. He forged a special friendship with Jake and they had a super time together. You wouldn't think that they have only met twice as they have such a special bond.'
The A-T Society was keen to ensure that this important friendship continued. Cian and Jake live hundreds of miles apart so meeting up regularly is not on option so we had to find a different solution. Anne, from our family support team, liaised with the boys' schools and families to set up a trial 'buddy' system via school video link. Jake's teaching assistant was instrumental in helping to set this up and both schools worked together to manage the logistics to make it happen. It's the first time that this has been done but we hope that it's something we can organise for other children with A-T in the future.
Anne said 'We are all so excited about this. We've been given a big thumbs up from both sets of parents and schools, so it's all systems go! The video link is a great solution so that these 2 young boys living with A-T can maintain their friendship, despite living in different parts of the U.K. Jake and Cian will soon be catching up and making more memories.'