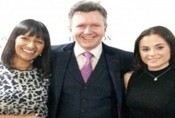 Three information films about living with A-T, the research we fund and the work of the A-T Society were nominated for a Royal Television Society factual award.
Young journalist Antonia Hunter made the films with the support of two A-T families as part of her degree course.  The films were praised by the #RTS judges for showing the human impact of the condition and bringing A-T to life in an accessible, informative and understandable way.
We would like to thank Antonia, the Sewell and Yarlett families and Professor Steve Jackson for their input into the films which are available to share here.
Picture:  Ranvir Singh of ITV's Good Morning Britain, Richard Frediani, Senior Programme Editor at ITV News and Antonia Hunter